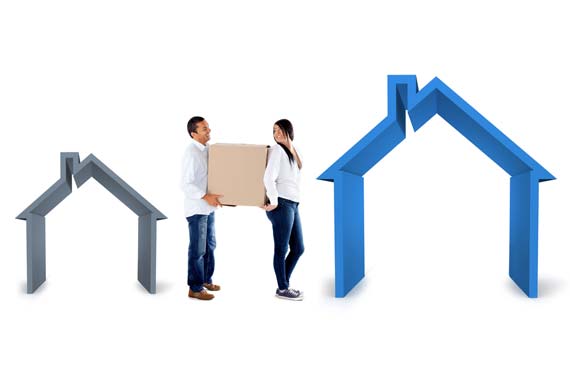 Whether you've had a career promotion, you're extending your family or you've been saving for a long time to be able to afford a larger property, there are always factors to consider when moving home – and when upsizing your home there is no exception.
Never be on your own when looking for a new property, seek expert advice – an estate agent will always be able to answer concerns you may have or guide you in areas that you are unsure in.
Try not to over complicate the process and take each step of your house move as it comes. When upsizing or downsizing your home, it can be easy to jump ahead which could leave you disappointed when things don't go to plan.
We advise that you consider the following five points when looking to upsize your home:
Budget
The first thing to consider is your budget. How much are you looking to spend, how much are you able to borrow for a mortgage and can you afford the monthly payments on those figures? Speaking with a financial advisor will give you a clear picture of everything that you'll need to consider and an estate agent can point you in the right direction for that.
Don't forget that you'll need to factor in future circumstance changes or market conditions as best as you can, as well as the costs associated with a larger home, considering renovation and maintenance costs involved in a larger property.
Size and space
What are you needs and what is the minimum amount of space that you require? Weighing out what you need against knowing what practical space you can live in will allow you to search for properties within a guideline. You know what you can manage with now and if you're needing a larger property, then you know what not to look at – the smaller properties can be eliminated from your search. Only consider properties that are practical for your personal needs.
Your goals
Why is it that you are upsizing your home and what do you hope to achieve from doing so? Before house-hunting, work out what it is you are looking to achieve from moving and what you do you need to do to manage those goals? Do you want a bigger kitchen? Do you require more bedrooms? Are you looking for office or workspace or a garage and outside space? Establish what your end game is going to be, to make the house-hunting process smoother and less stressful.
Consider the resale value in the future
Although this will not be something you're probably thinking about now, the future holds the unknown and later on in life you may look to downsize. With this in mind, think about the resale value for when that time comes and will it give you the profit or sum that you will be needing? The area, community, size of property, position of property, neighbours, local amenities etc can all be a factor when valuing a property.
Location choice
If you're looking to upsize your property, you may be looking to change your location to accommodate this too. Are you thinking about moving to the countryside/ seaside? Closer to family or friends? To an unfamiliar location or complete relocation?
Always research the location well and do as much investigating as possible to be confident that you're making the right choice. Talk to an estate agent that is well established in the community and gain location specifics to help you decide.
Moving can be stressful and you have to think it through before making a decision. Here at Southcrest, we always find the best solution for your every need.
Source: Clarkes Properties
Article by: Steve McCullough
Photo ctto