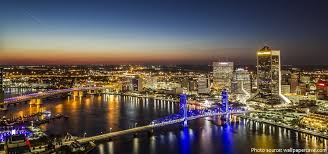 Learn about Jacksonville's history with these 10 fast facts!
1. During the 18th century, Jacksonville was a British settlement. Its original name was Cowford.
2. Prior to colonialism, much of Jacksonville was inhabited by the Timucuan Indians.
3. In 1562, French Huguenot settlers landed at the mouth of the St. Johns River and later established Fort Caroline.
4. Spanish colonies invaded Fort Caroline in 1568, renaming it San Matteo.
5. In 1822, Jacksonville was named for Andrew Jackson. At the time, Jackson was the military governor of the Florida territory.
6. Jacksonville became an official port of entry in 1822. Since then, the city has grown as a national logistics center.
7. Much of Jacksonville's urban core was destroyed by the Great Fire of 1901.
8. Mayport is among the largest U.S. Naval ports in the country.
9. All towns within Duval County were consolidated under the city of Jacksonville in 1968.
10. By land area, Jacksonville is the largest city in the contiguous United States.
Source: Visit Jacksonville
Photo/s credit to the owners